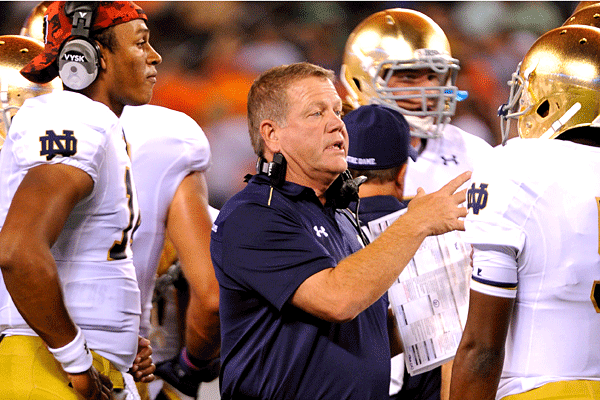 Kelly likes Irish's focus as Stanford awaits
Brian Kelly was greeted in the locker room after Saturday's game by the surest sign his voice was getting through. Notre Dame turned the ball over five times in a sloppy performance against Syracuse.
The Irish's decorated quarterback, Everett Golson, was responsible for four of those giveaways. They still won anyway, 31-15, to improve to 4-0. So when Kelly met his players afterward, the environment was considerably toned down, for his players knew that their performance was not up to par.
Brian Kelly and Notre Dame will have to overcome Stanford's stellar defense on Saturday in order to remain unbeaten. "Well, it's what you build your program on is a level of expectation that you know that you don't have to go in and deliver the message that's already pretty clear," the fifth-year Irish coach said Sunday.
"If they were in there giddy and happy, I'd be a little bit concerned. I want them to enjoy the win, but I also want them to know that there's better football that needs to be played, and they knew that."
Especially this Saturday, when they get their first true measuring stick of the season. No. 14 Stanford is coming to town, a program that has served as somewhat of a measuring stick for No. 9 Notre Dame in the Kelly era. The Irish know that they cannot perform anywhere near the way they did against the Orange and expect to beat the Cardinal, who have one loss to their name.
2014 NOTRE DAME FOOTBALL SCHEDULE
| | | | | | | |
| --- | --- | --- | --- | --- | --- | --- |
| DAY | DATE | H/A | OPP | PREGAME (PT) | GAME (PT) | NOTE(S) |
| Sat | 8/30/2014 | Home | Rice | 12:00 PM | 12:30 PM | W ND 48, Rice 17 |
| Sat | 9/6/2014 | Home | Michigan | 3:30 PM | 4:30 PM | W ND 31, Mich 0 |
| Sat | 9/13/2014 | Home | Purdue | 3:30 PM | 4:30 PM | W ND 30, PUR 14 |
| Sat | 9/20/2014 | BYE | BYE | BYE | BYE | BYE |
| Sat | 9/27/2014 | Away | Syracuse | TBA | TBA | |
| Sat | 10/4/2014 | Home | Stanford | 12:00 PM | 12:30 PM | |
| Sat | 10/11/2014 | Home | N. Carolina | 12:00 PM | 12:30 PM | |
| Sat | 10/18/2014 | Away | Florida St | TBA | TBA | |
| Sat | 10/25/2014 | BYE | BYE | BYE | BYE | BYE |
| Sat | 11/1/2014 | Away | Navy | TBA | TBA | |
| Sat | 11/8/2014 | Away | Arizona St | TBA | TBA | |
| Sat | 11/15/2014 | Home | Northwestern | 12:00 PM | 12:30 PM | |
| Sat | 11/22/2014 | Home | Louisville | 12:00 PM | 12:30 PM | |
| Sat | 11/29/2014 | Away | USC | TBA | TBA | |
Recently on The Notre Dame Broadcast