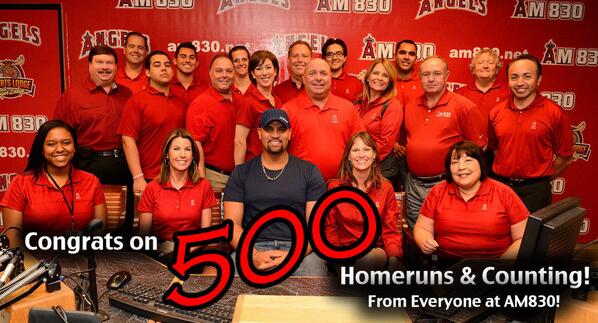 Pujols' milestone night paces Halos in win over Nats
Slugger's two blasts put him into exclusive 500-homer club
It was a game that belonged to Albert Pujols, but the Angels' first baseman wanted to make sure his team quickly turned the page when he gathered them up in the visiting clubhouse at Nationals Park late Tuesday night. "I had a little speech for them," Pujols said. "I told them that this was a great moment to share with them, but it'll be a better moment when we hopefully get the opportunity to raise the championship trophy, because that's what we play for."
The Angels are far from that right now, but got a little bit closer thanks to the gargantuan shots that put Pujols in exclusive company -- two homers that accounted for five runs, led the Angels to a 7-2 win, and made the superstar first baseman the 26th member of the 500-home run club. The Angels have won the first two of a three-game series in the nation's capital, and are a Wednesday victory away from being above .500 for the first time since Opening Day 2013. At 10-10, they've surpassed their April win total from last season -- with seven games still remaining in this season's first month. Those are the things that matter most to Pujols, even after becoming the third-youngest player to reach 500 homers.
"That's what we play for, to win some games," Pujols said. "And [500] tastes a little bit better with a win." In the first, Pujols crushed a 1-1 changeup from right-hander Taylor Jordan well over the fence in left field for a three-run homer that gave his team the early lead. In the fifth, he took a 1-2 sinker from Jordan and lined one to left-center field, just to the right of the Angels' bullpen, to give the Angels a four-run advantage.
"The 500th home run, that pitch was supposed to be low and away," Jordan said. "I guess I tried too hard to get it there. We did three consecutive fastballs there. I was really trying to get that ball where I wanted it, and left it over the middle of the plate." Pujols became the first player to hit Nos. 499 and 500 on the same day and, at 34 years and 96 days old, he's the third-youngest player to reach the milestone, trailing only Alex Rodriguez and Jimmie Foxx.
Tyler Skaggs was the winning pitcher of record. "That's something you tell your kids when they get older," Skaggs said. "I don't know the next guy who's going to hit 500 homers, so it could be a long time. I feel very blessed. I was just very happy to be on the mound. Of course, I couldn't be too happy on the mound, because I still had to go out there and pitch, but it's great to be a part of." Skaggs pitched seven innings of two-run ball, moving to 2-0 with a 3.21 ERA on the year, and turned his start around in the third inning.
The Nats (11-10) threatened in the inning, when Skaggs started the frame with a double, a single, a walk, a wild pitch and a hit by pitch. But he got a double-play ball and a popout in foul territory to give up only two runs, then retired 11 of 13 in the next four innings as the Angels cruised to victory. "That third inning got away from me," Skaggs said, "but I kind of stepped off the mound, took a deep breath and battled through it."
Hamilton out 6-8 Weeks, J.B. Shuck has been recalled Josh Hamilton will meet with a Doctor on Friday to see if surgery on his left thumb is required after he was injured sliding head first into first base on Tuesday night. He will miss six to eight weeks.
Josh Hamilton began the 2014 season as one of baseball's hottest hitters, picking up where he left off to finish an otherwise miserable first year with the Angels and looking a lot more like the five-time All-Star from Texas. Then he decided to slide headfirst into first base, and now he could be out until June.
An MRI Wednesday morning on Hamilton's left thumb, which he banged against first base in the seventh inning at Safeco Field the night before, revealed that he suffered a complete tear of the ulnar collateral ligament along with a torn capsule. The 32-year-old outfielder has already been told by the Angels' medical staff that he will need to undergo surgery, which carries an estimated recovery time of six to eight weeks, but it won't be official until he meets with hand specialist Dr. Steven Shin on Friday.
"Any time you play and you're playing hard and you're having fun, the last thing you want to do is do something that's going to cost you to miss time and maybe hurts your team in the long run," Hamilton said prior to Wednesday's game against the Mariners.
"If I could see a future, obviously I wouldn't do it. But in the moment, when my mind and my body tells me to do something and react some way, I've always done it. That's what I do. You can't change that." With Hamilton on the disabled list, outfielder J.B. Shuck has been recalled from Triple-A Salt Lake.
Recently on The Angels Broadcast