Trout & Pujols Named AL All-Stars
By Alden Gonzalez / MLB.com | July 7th, 2015
DENVER -- Albert Pujols has officially surged back into the collective conscience. On the heels of a dominant run reminiscent of his heyday in St. Louis, Pujols was chosen for his 10th All-Star Game on Monday, ending a four-year hiatus.
The Angels' cleanup hitter was selected as a reserve but will start at first base, replacing the injured Miguel Cabrera and joining teammate Mike Trout in the American League starting lineup.
Pujols, the AL Player of the Month for June, took Cabrera's place because he had the next-highest vote total on the Player Ballot at his position.
Angels pitchers Hector Santiago (fourth among AL starters with a 2.40 ERA) and Huston Street (tied for second with 23 saves) weren't chosen, but can still make the All-Star team if others drop out due to injury. If A's right-hander Sonny Gray starts Sunday, as scheduled, Santiago could make his way onto the roster.
Pujols leads the AL with 25 home runs, while slashing .265/.337/.557 and posting a FanGraphs Wins Above Replacement of 2.4.
The 35-year-old compiled fewer fan votes than at least 72 players, but he was deemed an All-Star by 298 of his peers. Only Cabrera, with 753 player votes, had more among AL first basemen.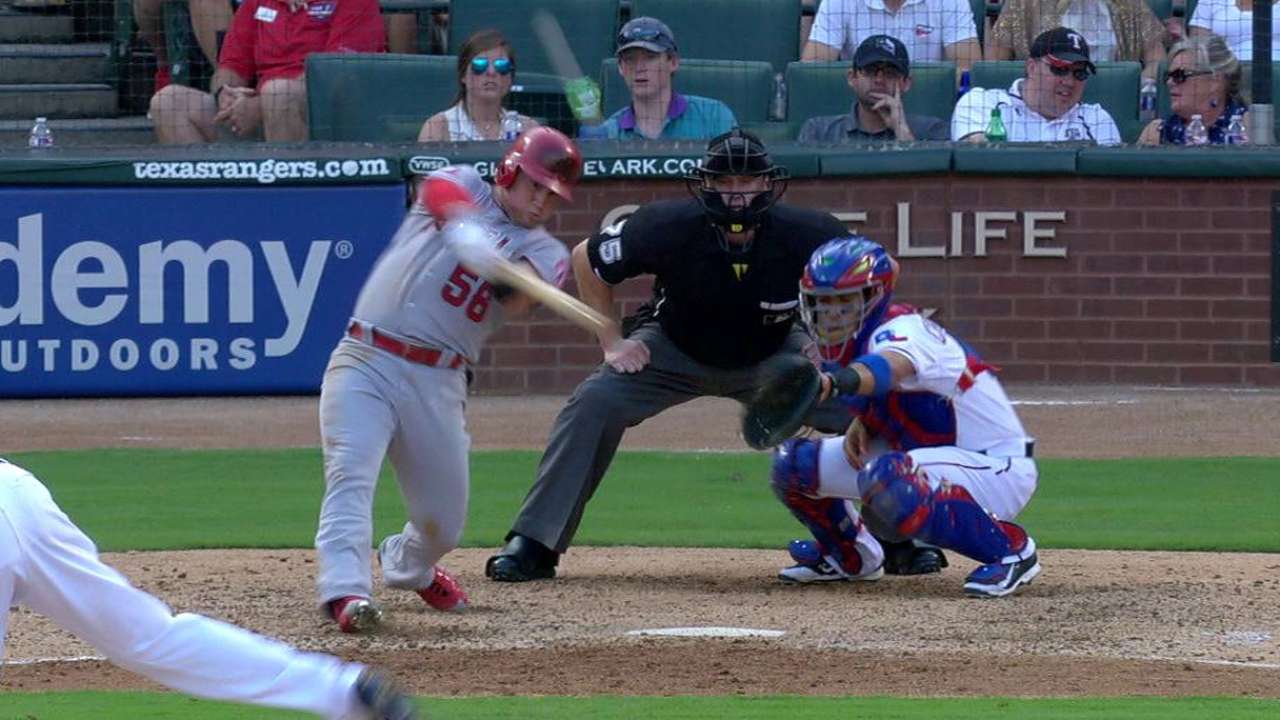 Angels score early, often in Texas sweep
By T.R. Sullivan and Cody Stavenhagen / MLB.com | July 6th, 2015
ARLINGTON -- The Angels once again struck early and completed a three-game sweep of the Rangers with a 12-6 victory on Sunday night. The Angels, who led, 12-1, after five innings, outscored the Rangers, 33-8, during the series, including a combined 22-1 over the first four innings of the three games. Angels starter C.J. Wilson out-pitched former teammate Colby Lewis, holding the Rangers to three runs in six innings.
He allowed six hits and two walks while striking out four. The Angels have won seven of their last eight and are now six games over .500 for the first time this season.
"We really broke out this series, no doubt," Angels manager Mike Scioscia said. "I think what I'm going to carry away from this series is really how well we pitched against a team that can really swing it. I thought we pitched really well this series and gave us a chance, and our offense blossomed."
Lewis allowed 10 runs in four-plus innings. It's the fourth time in Lewis' career that he has allowed 10 runs in a start, and the second time this season. He allowed 10 runs over 2 2/3 innings in a 12-3 loss to the Indians on May 27, but was 4-0 with a 3.29 ERA in his next six starts before Sunday night.
"I guess you could chalk this up to having good days and bad days," Lewis said. "You hope to have more better ones than bad ones. They were aggressive early in the count and swung the bat well. I can't elaborate any more on what was working and what wasn't."
The Rangers have lost six straight at home as well as 11 of their last 15 overall.
Recently on The Angels Broadcast