Angels run out of fight against Dodgers
By David Adler and Steve Bourbon / MLB.com | August 3, 2015
LOS ANGELES -- Andre Ethier hit a walk-off home run in the 10th inning to give the Dodgers a 5-3 victory over the Angels and their fourth straight win on Sunday at Dodger Stadium. The Halos wrapped up a 1-8 road trip. Ethier also homered in the eighth inning to put the Dodgers up, 3-2, only for the Angels to tie the game in the ninth on Chris Iannetta's RBI double.
When Ethier's spot in the order came around again in the 10th, the veteran yanked a 1-1 changeup into the right-field bullpen to give the Dodgers a Freeway Series sweep.
"It was the right time today to put us over the top," Ethier said. "There's not too many times in baseball where you get to take the last shot, and that was one of those opportunities." Mat Latos allowed just one run and four hits in his Dodgers debut. The 6-foot-6 righty was pulled after six innings despite only throwing 80 pitches.
The Angels' bullpen got a workout, as six relievers were called on following Cory Rasmus' three-inning spot start. Joe Smith gave up Ethier's first homer, the first the righty had allowed since last August, and Drew Rucinski gave up the walk-off for the loss.
"Tried to get ahead in the count, got to 1-1 and just made a mistake, threw a bad pitch," Rucinski said. "Frustrating."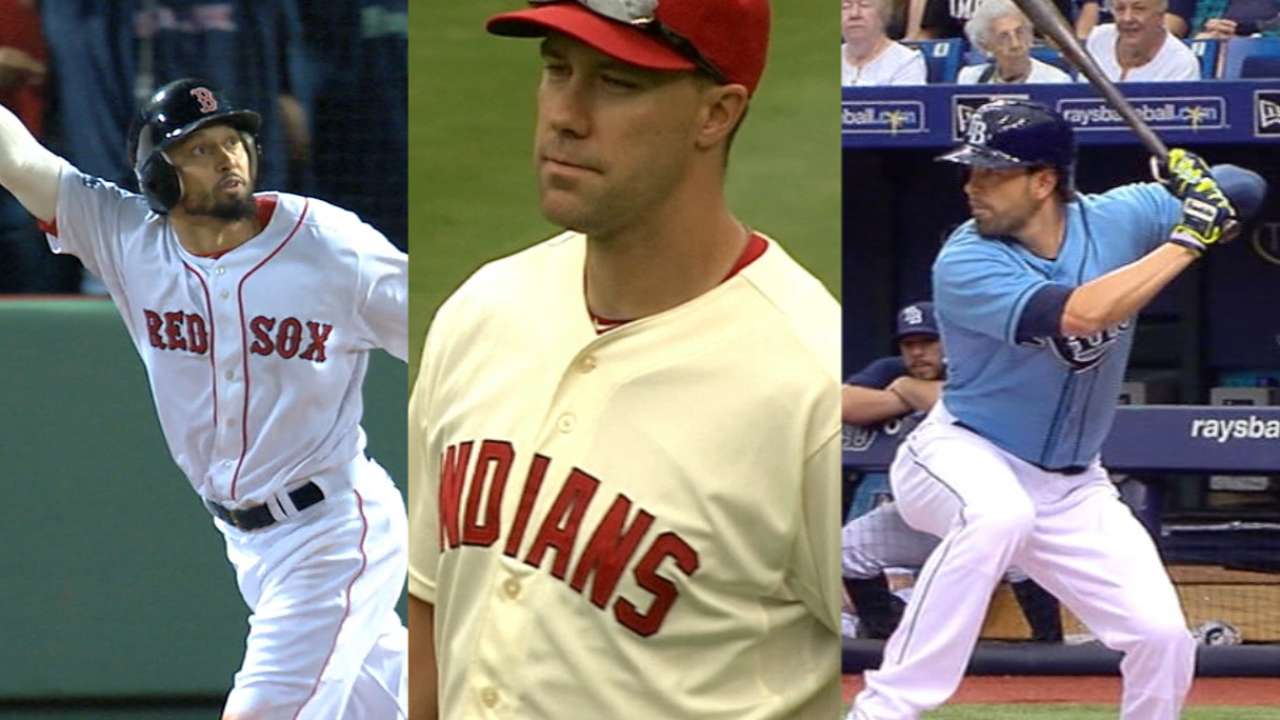 Angels add trio of veteran outfielders via trades
By Alden Gonzalez / MLB.com | July 29th, 2015
HOUSTON -- The Angels acquired left-handed-hitting outfielders David Murphy and David DeJesus on Tuesday, one day after trading for right-handed-hitting outfielder Shane Victorino. The moves -- made without parting with any premium starting-pitching prospects -- give Angels manager Mike Scioscia the ability to platoon in left field and designated hitter, the two most troubled spots of his lineup. Rather than splurge on a premium bat in what continued to be a tough buyers' market for offense, the Angels opted for volume. "The results will show up on the field, but I feel a lot better getting some guys who can play left, feel a whole lot better about our chances," interim general manager Bill Stoneman said on a conference call. "I especially like that we got some veteran guys who have been around."
For Murphy, the Angels sent Double-A shortstop Eric Stamets to the Indians. For DeJesus, rookie-level starter Eduar Lopez went to the Rays. Triple-A relievers Vinnie Pestano and Jeremy McBryde were designated for assignment to create room on the 40-man roster, and the Angels will announce corresponding moves to put Murphy and DeJesus on the active roster on Wednesday.
DeJesus and Victorino -- acquired from the Red Sox for Triple-A shortstop Josh Rutledge on Monday -- are expected to platoon in left field, while Murphy platoons with right-handed power hitter C.J. Cron at designated hitter.
Fellow left-handed-hitting outfielder Matt Joyce -- batting .178 and currently on the seven-day concussion disabled list -- seemingly no longer has a role, but he will remain on the team for now. DeJesus ($5 million) and Murphy ($7 million) both have affordable club options for next season. "It's going to give us a little more balance," Scioscia said. "Both those guys have been hitting right-handed pitching well this year, so they'll definitely help out."
Recently on The Angels Broadcast